Thinkpad Trackpoint Keyboard 2: Wireless keyboard in the Thinkpad design for the desk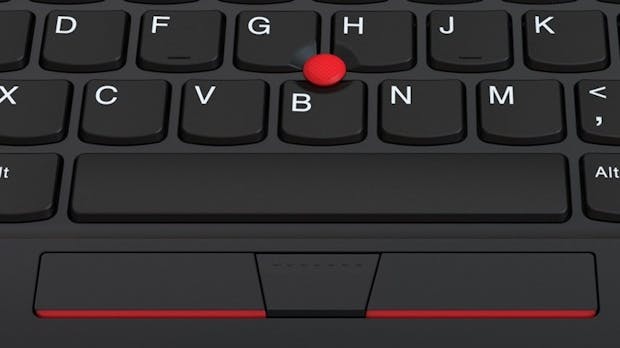 Lenovo shows a new variant of an external Thinkpad keyboard in Las Vegas. The Thinkpad Trackpoint Keyboard 2 promises the typing experience of the notebook also at the office workplace.
Lenovo has on the occasion of the CES 2020 a follow-up model of the Thinkpad Compact USB keyboard presented, which has been sold for six years. The new model is only available in wireless mode and the button layout corresponds to that of modern Thinkpad notebooks. Lenovo has revised the design of its notebook keyboards in recent years, with the new keyboard users should have all functions in the same position as on the notebook.
The new model is no longer called Thinkpad Compact, but Lenovo now emphasizes the Trackpoint: Thinkpad Trackpoint Keyboard 2 is the name, although there was never a previous model with this name. It accordingly offers a trackpoint and mouse buttons to control a mouse arrow over it; however, there is no trackpad.
The Lenovo keyboard supports Bluetooth or can optionally be used with a 2.4 gigahertz radio technology by connecting a USB dongle to the computer to be controlled. The previous model was available as a cable variant. With the Thinkpad Trackpoint Keyboard 2, users get the same operation as on a Thinkpad notebook from Lenovo.
No lighting
The keyboard has flat scissor keys in chiclet design, which promises a comfortable typing on it. The keyboards on Thinkpad notebooks are widely praised for their good writing experience. The usual function keys are located on the external keyboard to control the display brightness or volume, for example. Switching the display source or switching speakers and microphones is also possible. Unlike the notebooks, there is no backlight for the keyboard.
There is a battery in the Thinkpad Trackpoint Keyboard 2, which should provide a runtime of two months. A USB charging cable is included, but a power adapter is not. With a charging time of 15 minutes, a service life of up to one week should be possible. Supported operating systems include Windows and Android. The Apple operating systems are not listed, but the basic functions of the keyboard should also be available with an iPhone, an iPad, or a Mac computer. The same applies to Linux.
The keyboard is 30, 6 x 16, 4 x 1.4 centimeters in size and thus has the same dimensions as the previous model. The weight has also remained almost the same at 460 grams – the previous model is available with a USB cable.
Lenovo plans to launch the Thinkpad Trackpoint Keyboard 2 in the second quarter 2020. So far, the manufacturer has only mentioned the US price, which should be 100 US dollar. In Germany, the keyboard will probably cost around 100 euros.
author of the article is Ingo Pakalski.