Health gadgets: apps and hardware for more well-being in the office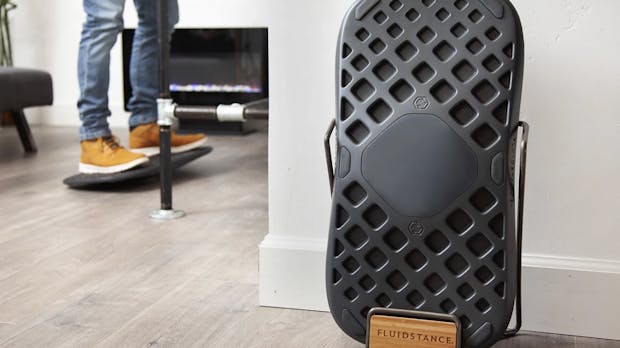 Sit less, drink more, work healthier: Even in the office, a few tricks can do a lot for your own well-being. Overview of eight gadgets and services.
Fluidstance: Off to the wobble board
Working at the bar table? An old hat. "Wobbly boards" could be translated as the trend in the USA by the young company Fluidstance is forced. Her thesis: Standing work noticeably relieves the spine, but shifts the load on one side to the knees and ankles. Following the idea, the "Level" called balance board (275 Euro) developed: a 70 Centimeter long wooden board with a curved lower deck made of aluminum. Once jumped on, it forces the body to balance in all directions and activates the trunk and deep muscles, which are neglected when sitting. Office frills? Cornelia Schneider, Managing Director of GGW Homburg's occupational health consultancy, is of a divided opinion: "Such gadgets are a nice change for tech-savvy office workers, but do balance exercises and cognitively demanding tasks? In the long run, this is not very productive. "Schneider advises office workers not to leave responsibility for their own body feeling to technology alone. "Who all 90 Minutes get up for three to four minutes, roll a tennis ball under the desk or occasionally loosen your knees, also feel significant improvements. "After all, the fluid stance makers have the backing of science: In a study by the Mayo Clinic in Jacksonville came out that the calorie consumption when using the wobble board by just under 20 percent higher
than when sitting.
Night Shift: Protects the eyes
There are no long-term studies on humans yet, but researchers have been warning about the high-energy blue light (HEV) in computer and smartphone displays for years. "There is evidence that cells in the brain and retina are damaged by increased exposure to artificial light," according to a study by Oregon State University. The possible consequences: sleep disorders or – so authors of earlier studies claim – an increased risk of age-related loss of visual acuity, also called "macular degeneration". The knowledge has now even reached Apple: For almost two years now, the so-called "Night Shift" function has been able to automatically change the colors of iPhone and Mac displays to a warmer color spectrum. As an alternative with detailed setting options, the Flux software is available for Windows, Linux and Android devices. There are also various anti-blue light films and discs that can be glued to a smartphone or monitor.
Equa Smart Water Bottle: Finally drink enough water
One and a half to two liters per day: Almost everyone knows the recommended water intake for adults. Nevertheless, according to surveys, one in three people fail to drink enough daily. It is particularly difficult for working people. How can that be? "As digitalization progresses in the world of work, the amount and complexity of tasks increase. These stresses can lead to stress, so it is often simply forgotten to reach for the water glass, "says Mark Hübers, ecotrophologist at the Institute for Occupational Health Consulting in Constance. This can be prevented by the Smart Water Bottle from the Slovenian manufacturer Equa .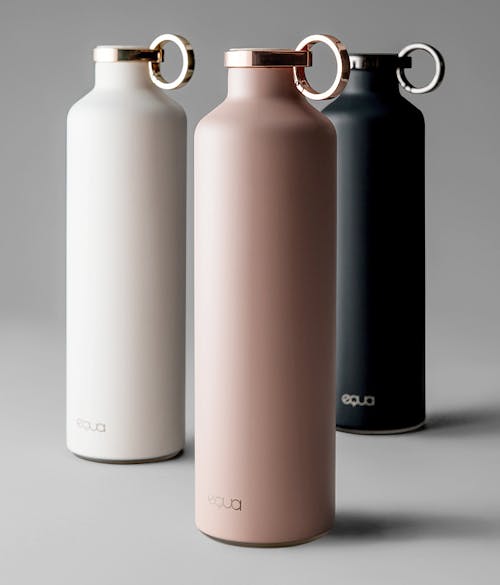 (Figure: Equa)
The 680 milliliter stainless steel bottle reminds The user sips the next sip of water via a light signal on the bottom of the bottle. A tap on the housing indicates whether there is a need for liquid again. In advance, the drinking bottle must be paired with the smartphone once via Bluetooth and via the Equa – app a personalized hydration program can be created. An alternative is the "Waterminder" app, which reminds users to drink via iPhone and Apple Watch, for example. Hübers also believes that both solutions make sense: "They can help to prioritize hydration in everyday work and thus avoid headaches and poor concentration," explains the expert. However, this is not a panacea. He advises to get used to additional routines: about a glass of water after each meal or going to the toilet. In addition, companies are also obliged to raise their employees' awareness of the issue.
Dyson Pure Cool Me: Fresh air, without any stress with your colleagues
Always a sensitive issue in the office: airing out. To a large extent, science agrees that regularly opening windows can prevent colds, headaches and dizziness. But especially in winter, the procedure is viewed with suspicion by some colleagues: it is cold, it is pulling, and the street noise is annoying. This can be remedied by portable air purifiers such as the Pure Cool Me from Dyson . The 299 gram light device fits on every desk and supplies office workers with fresh room air at the push of a button. An activated carbon and a suspended matter filter inside suck in the ambient air and remove gases such as formaldehyde, benzene and nitrogen dioxide. The so supposed to be 99 95 Percent cleaned air then flows out via an air control mechanism in the convex cover of the device – in all desired directions. An LCD display allows users to read the speed of the airflow, the different modes and the filter life. Cost: 349 Euro